< Home < Tutorials < Remove Humps at the Node
Remove Humps at the Node
By: Tom Smithwick

This photo is a side view of a triangular strip. If I filed away the hump, I would be removing a lot of power fiber. I am first going to bend the fibers on each side of the node. I will heat the center of the upward curve, and bend the fibers down.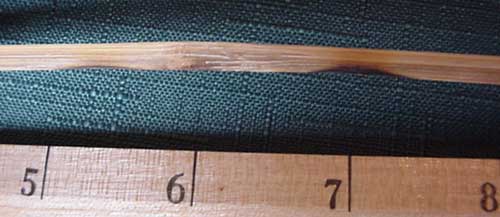 Here I have bent the fibers down. Note that I now have straight sections entering the node at an angle. Now I will bend each side of the node up.

Here is the result. There is now only a slight bump at the node, which can be filed away. The strip will now lay correctly in the finish planing forms, and we accomplished that without excess fiber removal.