< Home < Galleries < 2004 Southern Rodmakers Gathering - Lowell Davis Etal
Here are some photos from the 2004 Southern Rodmakers Gathering taken by Lowell Davis and others.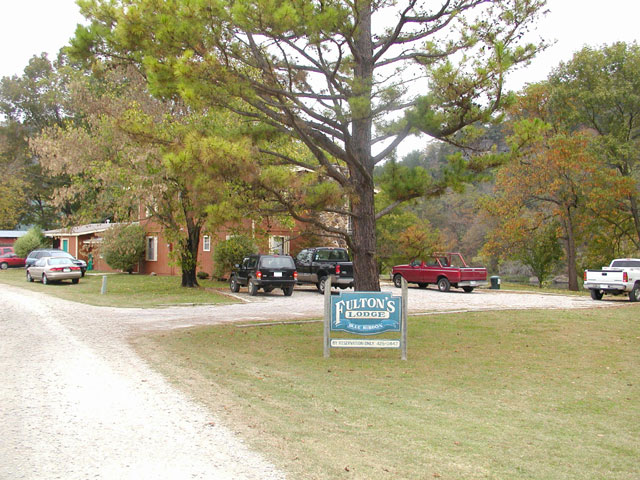 Arriving at Fulton's Lodge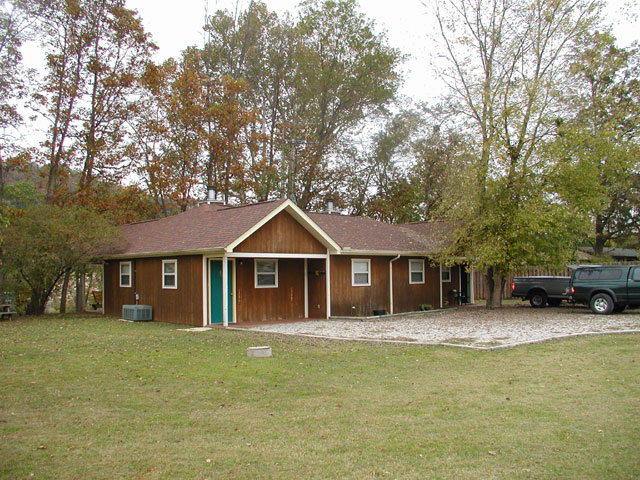 The other lodging at Fulton's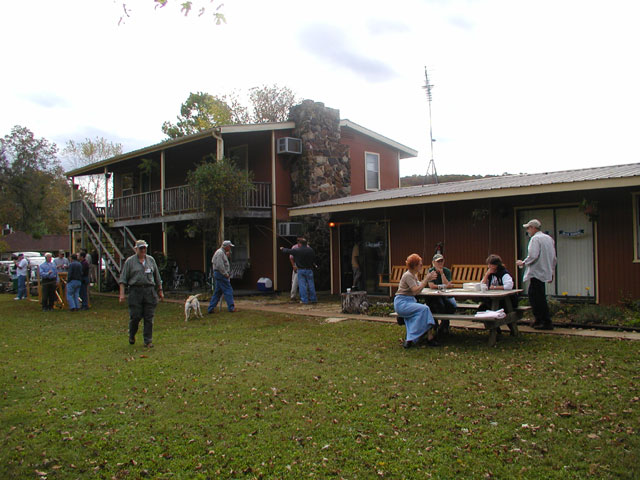 Visiting during a break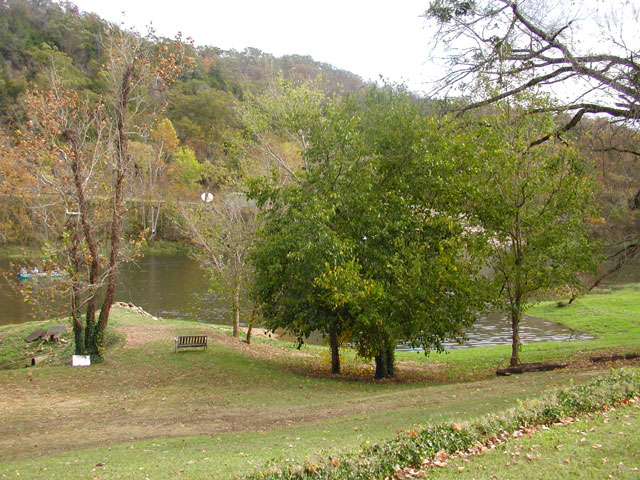 White River in front of the lodge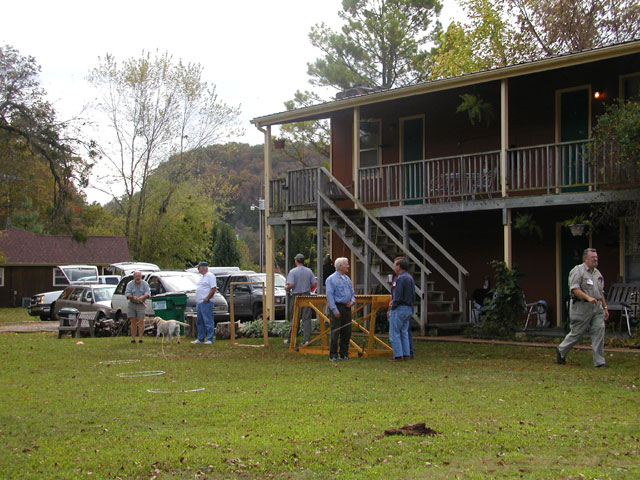 Ken Cole casting with instruction from Steve Trauthwein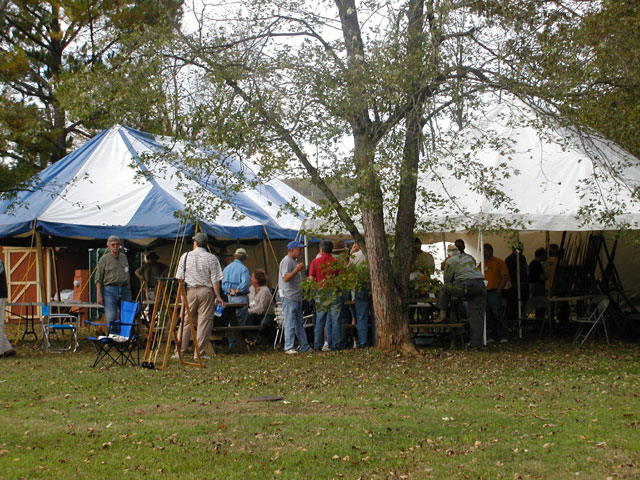 The gathering area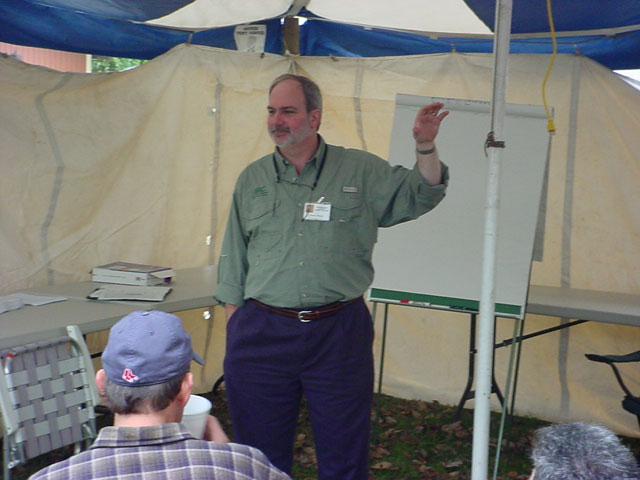 Harry Boyd welcoming everyone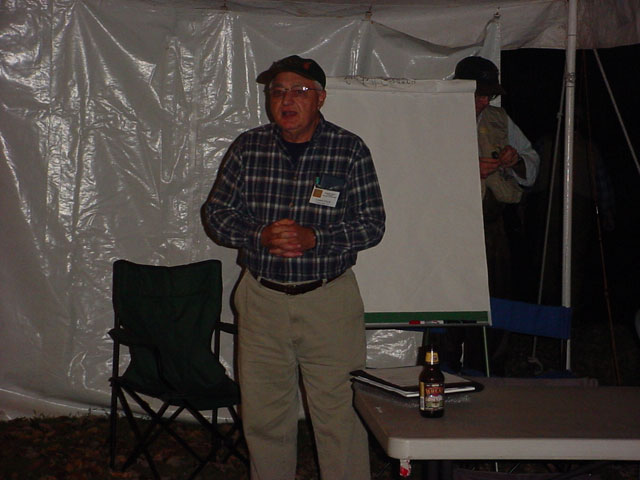 Lowell Davis with announcements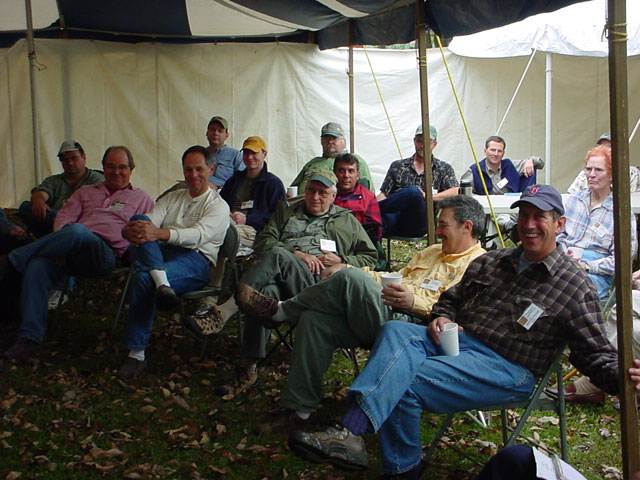 The group listening to Harry & Lowell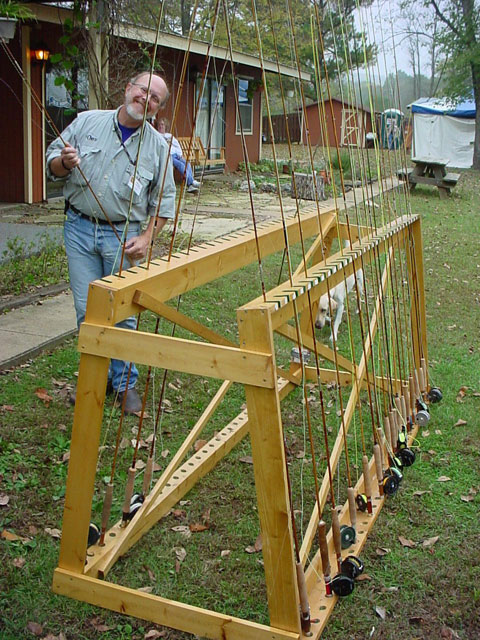 Ken Cole checking out the rod rack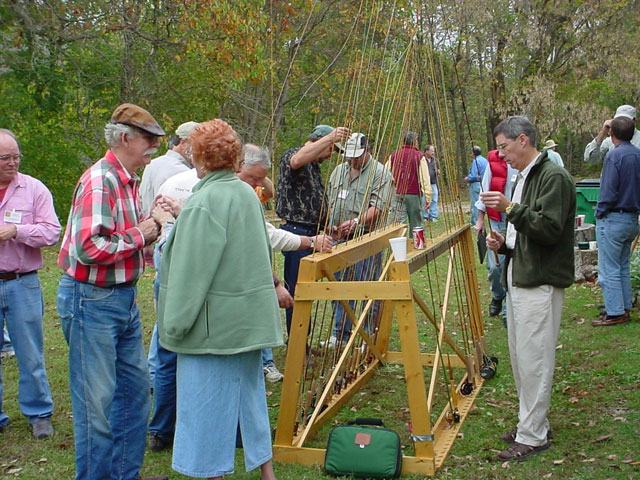 Wow! Look at all those rods!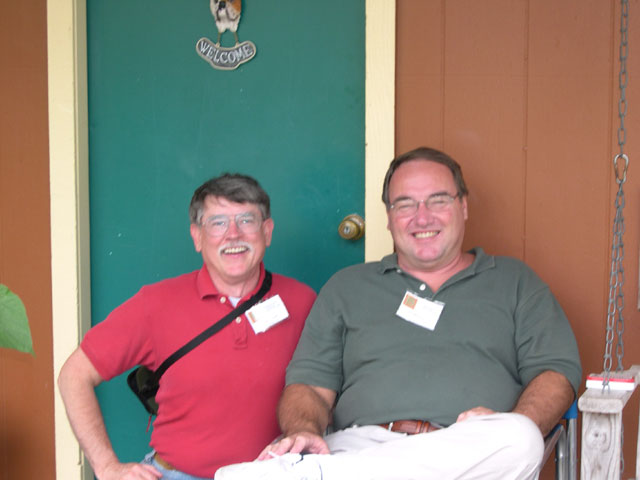 Mark Cole & Al Medved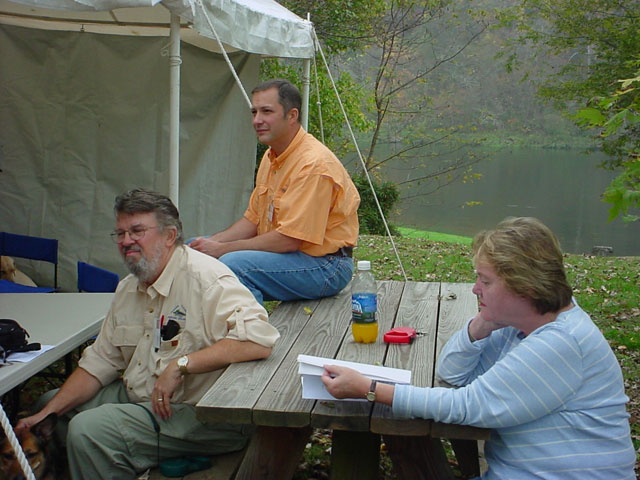 Art Port, Mike Hawkins & Kristen Port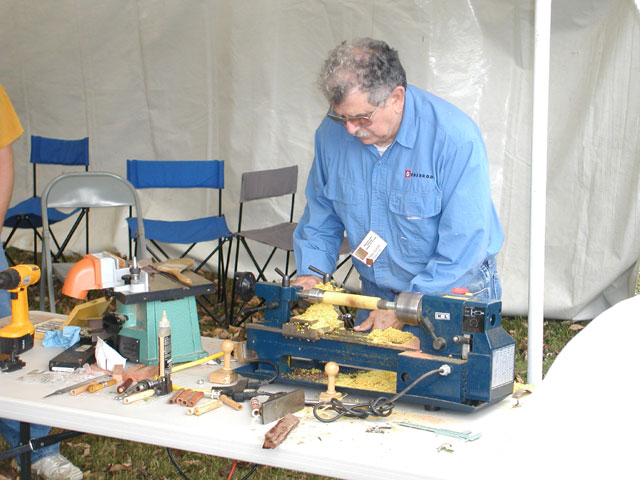 Tony Spezio doing his reel seat demo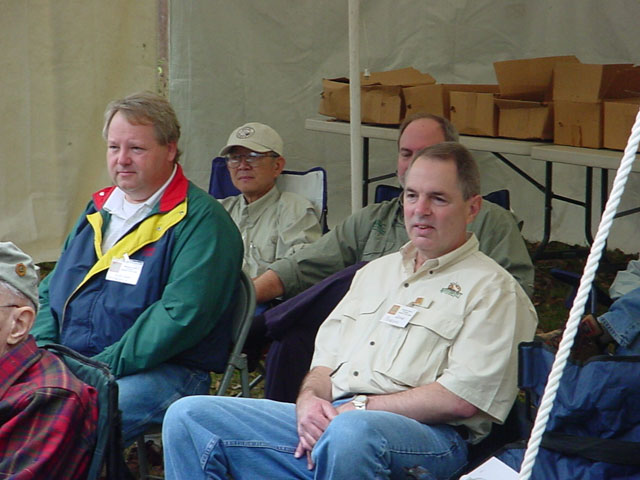 Scott Grady, David Chin, Harry Boyd & John Roboski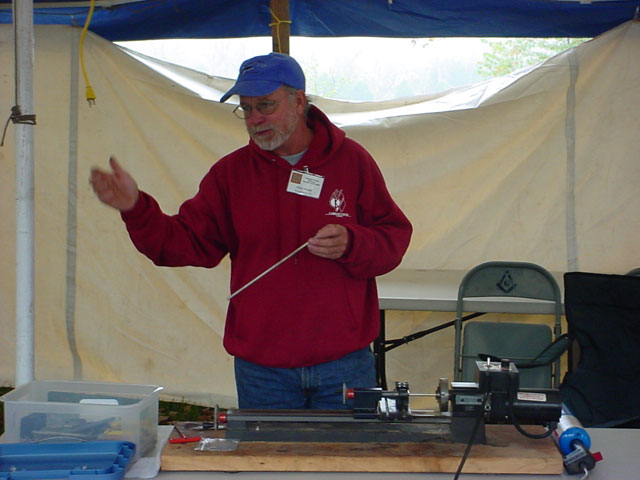 Alan Kube making ferrules on his lathe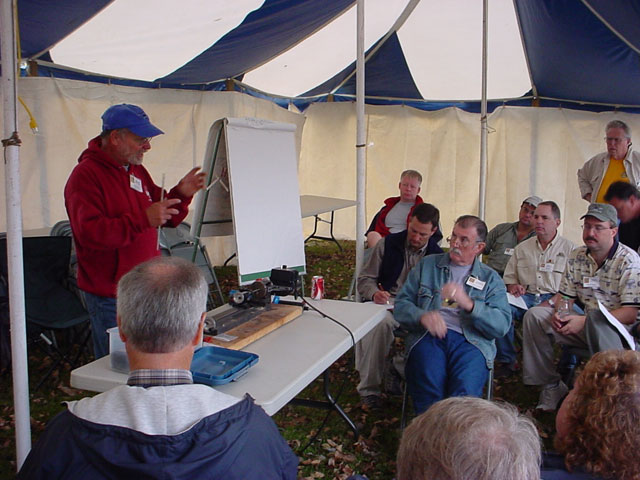 The group listening to Alan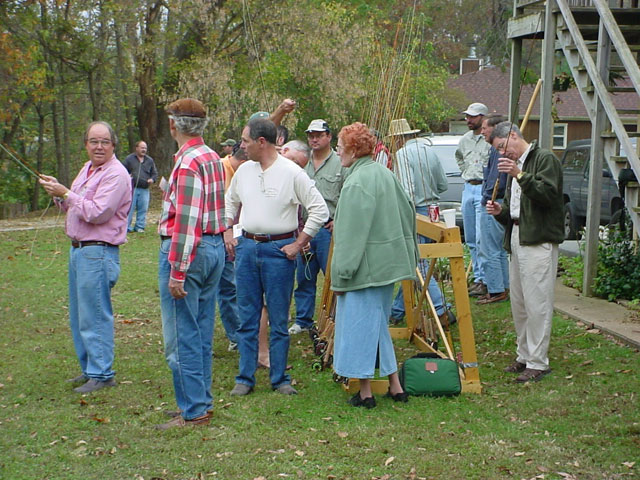 Checking out the rod rack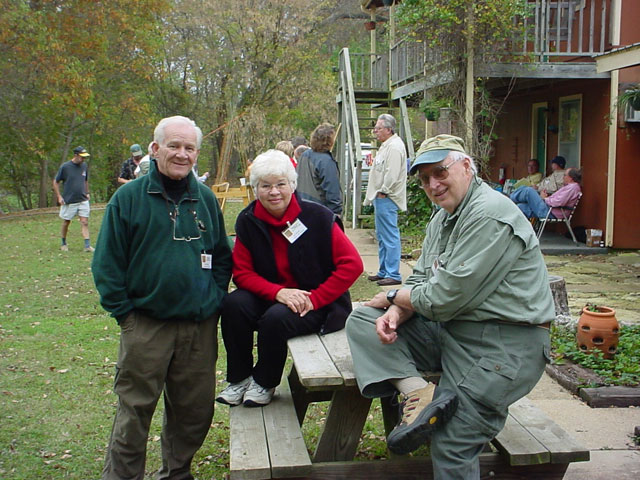 Ted and Jo Knott (from Canada) & Frank Paul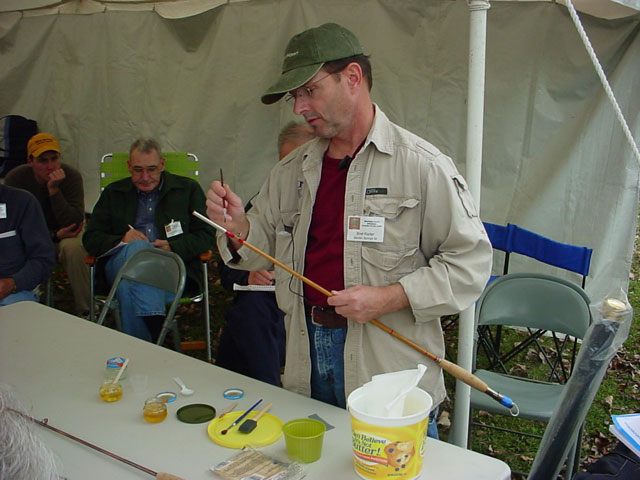 Bret Reiter demonstrating brush varnishing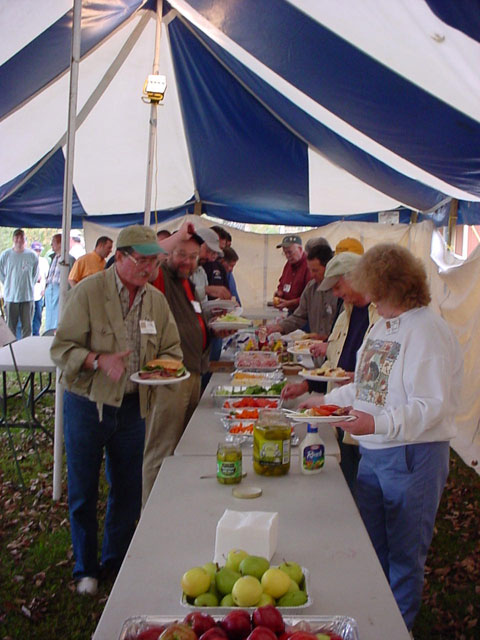 Lunch Time!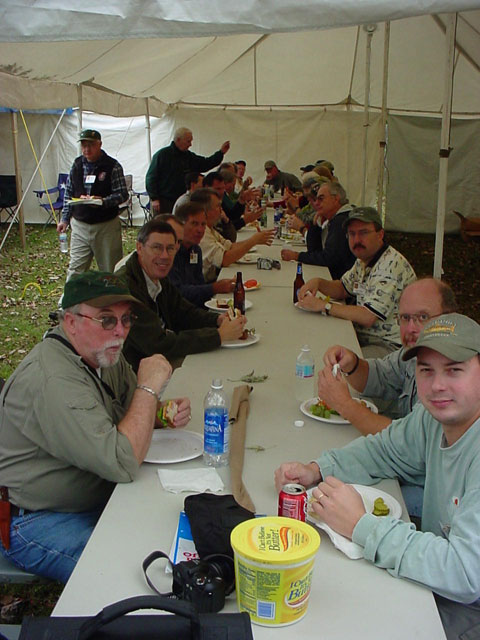 Looks like everyone is enjoying lunch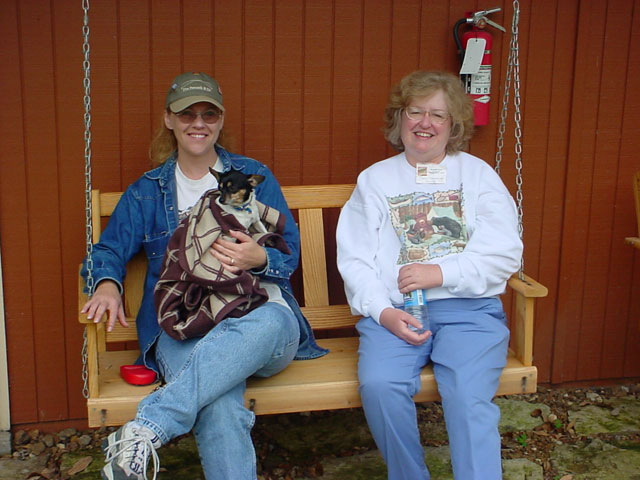 Bonnie Preusch & Cathy Thomason relaxing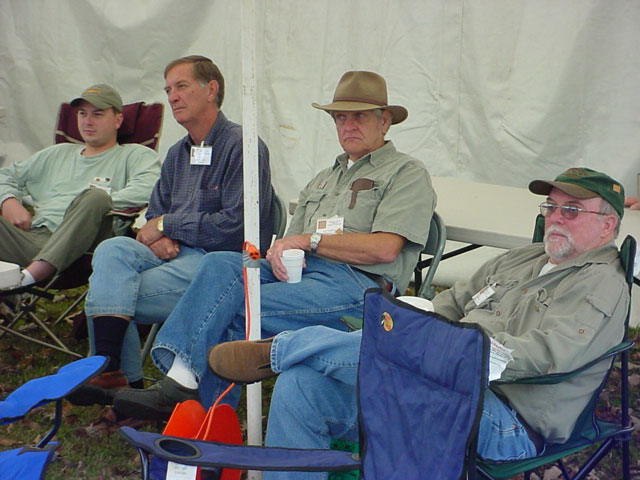 Brian Justiss, Tom Peters, Jim Hatfield & Paul Craig
Jeff Hatton and his Classic Rod Rack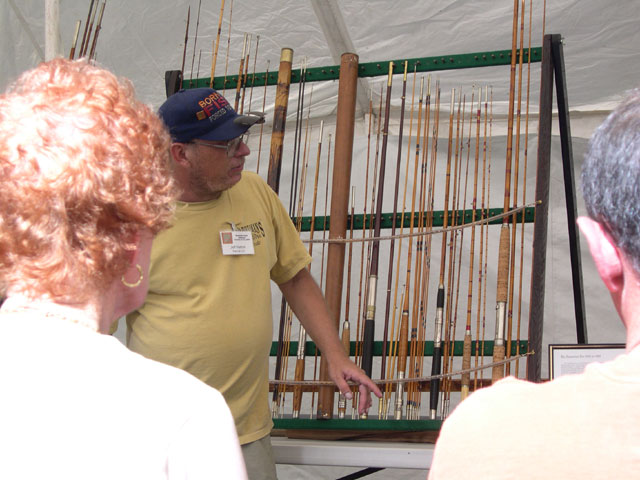 Jeff Hatton informing us about his collection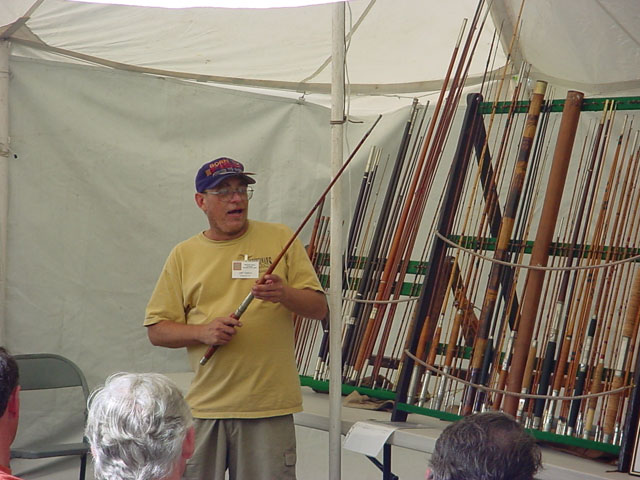 Jeff again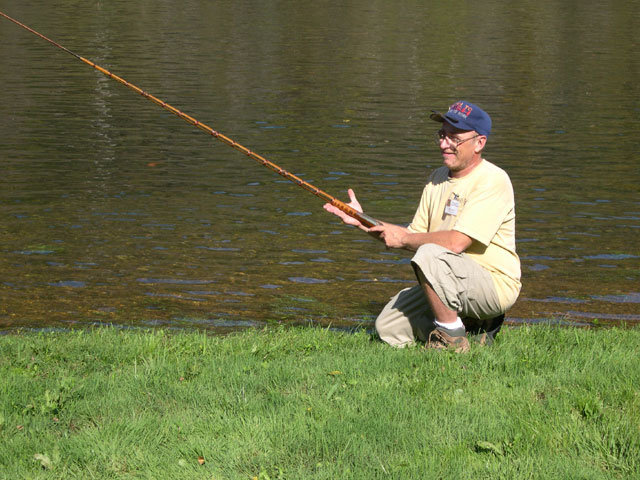 Jeff trying one of his classic rods on the White River
Tim Preusch, Lee Koch, Bret Reiter, Nick Kingston & Mark Wendt enjoying Mark's home brew
Eileen & Harold Demarest in front and Greg Peters, Doug Peters in back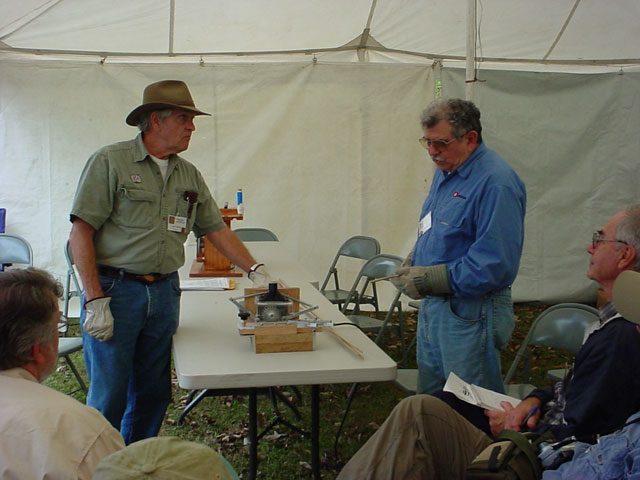 Jim Hatfield & Tony Spezio demonstrating Tony's power beveler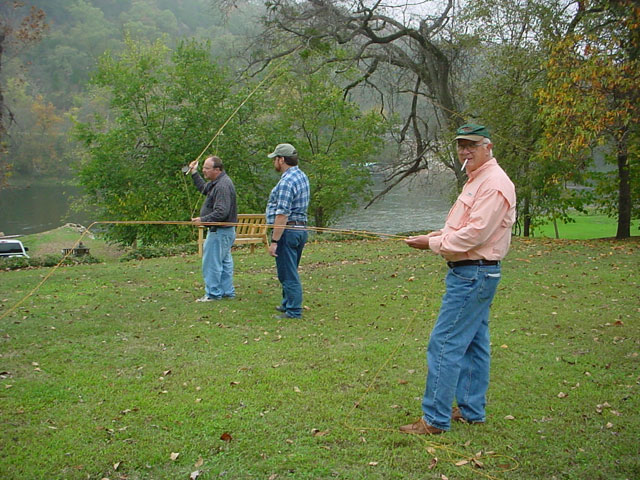 Mike Brooks, Bill Walters & Barry Bauer doing some casting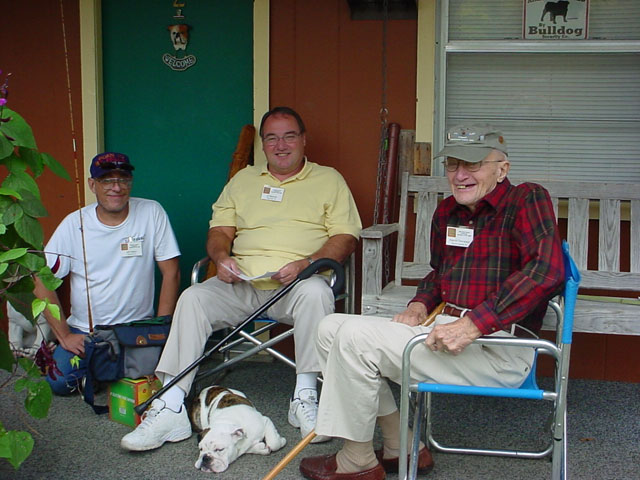 Jeff Hatton, Al Medved with Tootsie & Harold Demarest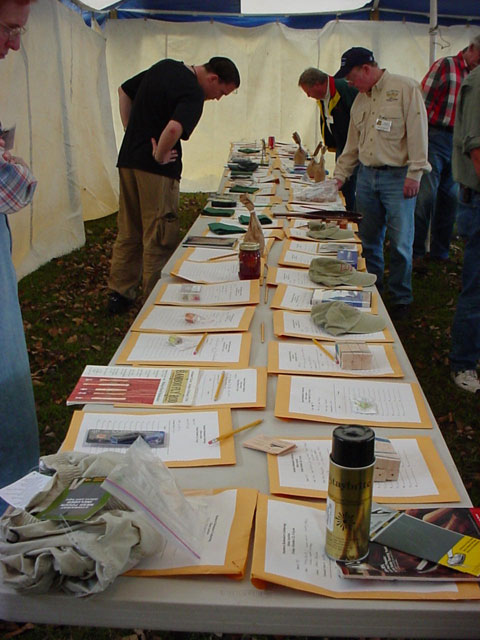 Auction Items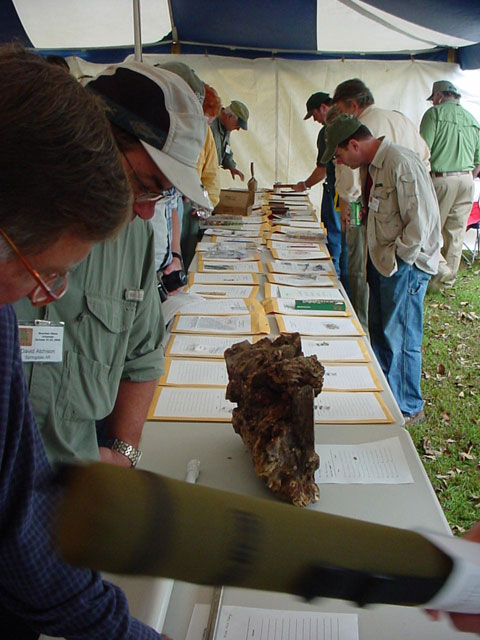 More Auction Items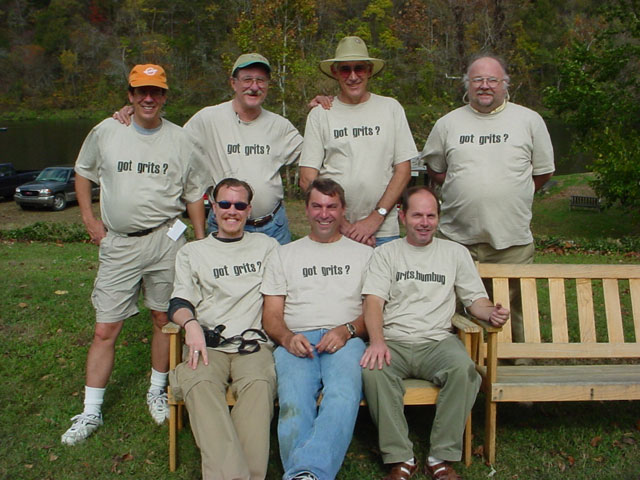 The "Got Grits?" Gang
Front Row: Nick Kingston (the token foreigner), Mark Wendt (chief agitator),
Bret Reiter (heard that grits will make you grow tall)

Back Row: Rick Crenshaw (a ringer), Darrol Groth (the Texas connection),
Gary Jones (Chief Supplier), Tim Wilhem (proof that grits will make you bigger)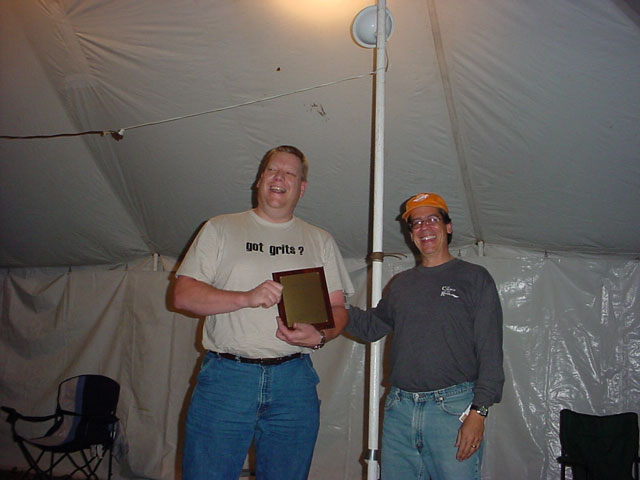 Rodmaker of the Year "Todd Talsma" with Rick Crenshaw presenter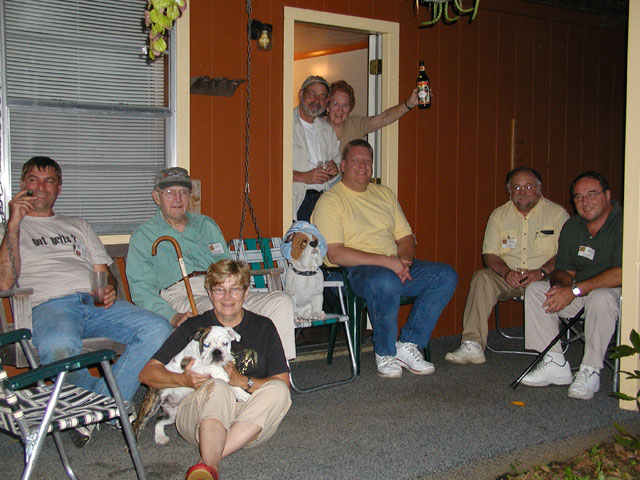 Saturday night on the front porch
Carole Medved (in front with Claire & Tootsie), Mark Wendt, Harold Demarest,
Is that Charlie Curro?, Todd Talsma, Tim Wilhelm, Al Medved and in back Mike Biondo & Eileen Demarest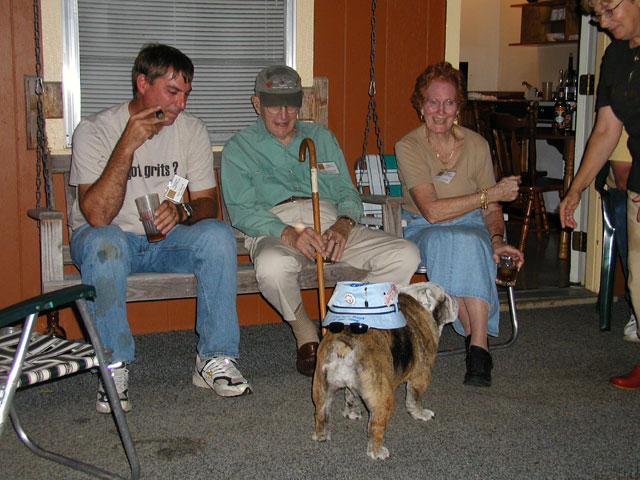 No, this is Charlie! with Mark Wendt, Harold Demarest, Eileen Demarest saying it's about time you got here!
The whole gang with the White River in the background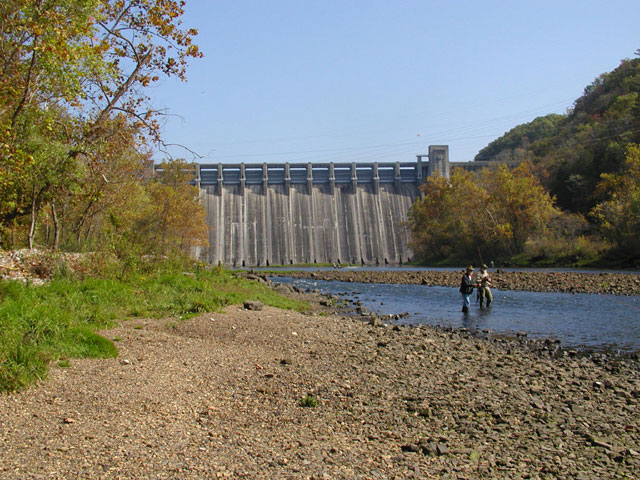 Norfork Dam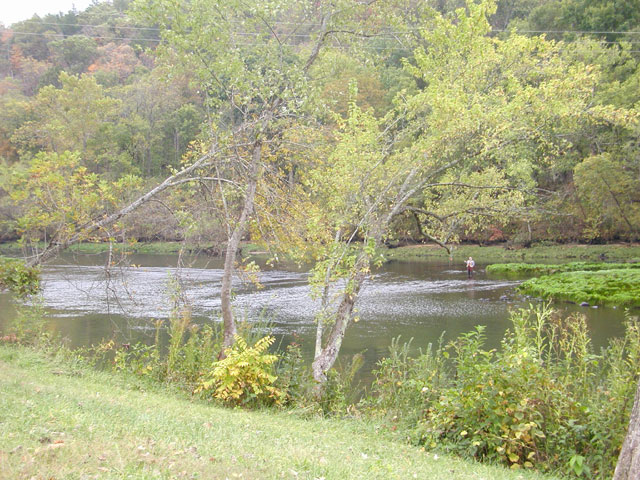 Norfork River in front of Quarry Park
Typical (?) day at the Boat Ramp in Quarry Park