< Home < Contraptions < Supports
Here are some pictures and/or drawings of lathe supports from various makers. If the name of the submitter is underlined, you can go to the submitter's web site.

Larry Blan's Lathe Supports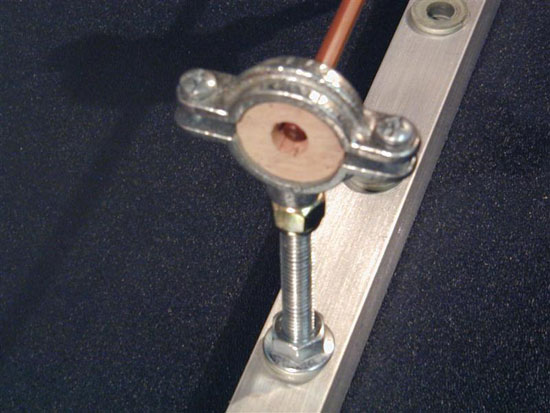 When I set out to build a support, I made the typical wooden support with a cork insert. It worked, but I wanted to support the rod section in two places, and I really did not want to store another large, clumsy fixture.
This is what I came up with. It is a piece of 1" x 1" x 1", 1/8" wall aluminum channel. Any number of materials could be substituted. Along the length, I put in 3/8-16 rivnuts. The support is capable of being used for any two piece rod from 6 to 10 feet in length. I haven't measured against any 3 piece lengths, but with adjustments every 3", I have to believe it would work just fine for most any 3 piece as well.
The vertical supports are electrical conduit clamps. If they can't be had at your local big box store, any commercial electrical supply will carry them. They are supplied with a 3/8-16 thread in the bottom. The supports are just as simple as they appear, a piece of threaded rod, a couple of nuts, the conduit clamp, and a cork ring. Obviously, the height can be tailored to your particular requirements.
When I first began using this, I clamped the free end. I have found that a clamp is not necessary. I attach it to the board supporting my lathe with a ¼-20 bolt, and put a piece of non-slip shelf liner under the free end.
Storage (or the lack of) was an issue. This will store just about anywhere. I hang it on the wall in an out of the way corner of my cave.