< Home < Contraptions < Miscellaneous
Here are some pictures and/or drawings of miscellaneous items from various makers. If the name of the submitter is underlined, you can go to the submitter's web site.

Frank Stetzer's Work Table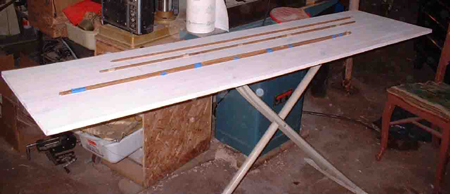 Need more workspace? I made a table out of a discarded ironing board and a piece of plywood. It's the right shape for working on rods, the height is adjustable, and it folds for storage. Good for rod wrapping in front of a sunny window too.